Event Overview
Attendance Surges at Second Sensor Focused Conference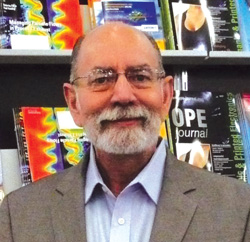 Mark Andrews, Sensor Solutions International Conference Chair reflects on the November 2021 event.
Practical implementations of advanced sensing technologies drove surging attendance at Sensor Solutions International in Brussels as designers, developers and integrators examined the near- and mid-term applications of advanced sensing devices and sensor-centric systems.

Sensor Solutions International (SSI) concluded recently in Brussels, Belgium with a focus on practical and emerging technologies for wide-ranging end uses across industrial, manufacturing, commercial and consumer products. More than 30 presenters and two panel sessions engaged attendees and delegates throughout the two-day event.

Co-located with conferences that focused on photonic integrated circuits (PICs) and compound semiconductor (CS) technologies, the collective program drew record attendance, with more than 150 delegates registered for SSI alone.

Nicolas Sauvage, a senior director at TDK Invensense, set the tone on Day One of SSI with his keynote presentation that addressed the numerous requirements of sensors within autonomous vehicle applications. While some sensor developers are taking an application-specific development path, others are looking at ways to create their own spin on sensor fusion, in essence creating a device that, when paired with artificial intelligence (AI), can meet multiple requirements within the overall scope of a given project.

Given its key role in vehicle ADAS and autonomy applications, LiDAR devices and applications utilizing LiDAR-based sensors remained a key focus of the morning presentations. Wade Appelman, VP for sales and marketing at ON Semiconductor, discussed the need to handle longer range applications and the challenge of detecting very low reflectivity targets in widely varying environments. An essential quality of his company's approach is achieving object detection with a very limited number of photons from the return signal, and improving resolution while reducing the size and complexity of LiDAR systems. "Silicon photo multipliers are key to ongoing development work," he indicated. "Today, photon detection range is about 12 percent on average; the goal is to achieve 30 percent," he stated.

Offering insights about the ever-growing universe of LiDAR-based sensory systems was Yole Développement Analyst Alexis Debray who gave attendees some exciting numbers to consider. The LiDAR market, once restricted largely to research and space applications for decades, is expected to grow from (USD) $325 million in 2017 to $5.2 billion by 2023—a CAGR of approximately 48 percent. Achieving this spectacular growth potential will depend largely on the development and growth of vehicle autonomy segments within transport, including robo-taxis, ADAS systems and the proliferation of increasingly autonomous vehicles.

While many presenters from Day One of SSI focused on LiDAR and AI/machine learning, Stephen Fendyke, sensor team led from FiveAI, focused on transforming transportation within Europe's great cities – His company's first target is London. With a (USD) $40 million infusion of capital, FiveAI is slated to begin road trials of their autonomous vehicle platform in 2022.

"We focus on the 'last mile' of getting people and things to the places they need to be," he remarked. "The advantage of autonomy is that it frees up passengers to do other things whilst in a vehicle. Imagine the productivity increase that could simply come from being able to do other things besides driving while riding in an automobile."

As many presenters described their company's approach and unique capabilities within LiDAR and other advanced imaging sensors, more than a few acknowledged Velodyne's leadership in LiDAR. So when Dieter Gabriel, EMEA marketing manager for Velodyne took the stage, it was clear he had to not only demonstrate the value of his company's existing product line, but also offer insights into a future the company believes will continue to be dominated by their solutions.

Capping the morning's look at LiDAR and related imaging technologies was IHS Markit senior principal analyst Richard Dixon who directly addressed many of the questions device designers and market developers seemed anxious to explore: How large is the sensors market? How fast will it grow? Where are the greatest opportunities?

Dixon said at present the semiconductor or chip-based sensor market now stands at about (USD) $5 billion, with principle applications within ADAS, radar, imaging (including LiDAR). But that market is set for change, and in a big way.

"Fifty-two percent of cars by 2030 will be hybrid or full electric (EVs)," he noted. "Hybrid vehicles will continue to dominate through the mid-century point. When conventional petrol or diesel engines drop out of the automotive picture, this will be bad for companies manufacturing conventional sensors tied to internal combustion engines. But this will be good for those (companies) with new technologies and those with the ability to integrate sensors for hybrids and EVs. Cars will need 20 to 30 new types of sensors as autonomy become more commonplace," he explained.

Day Two of the program saw a shift into sensory requirements outside of transport and healthcare, looking at requirements for the IoT and its industrial cousin, the IIoT. According to Wolfgang Schmitt-Hahn, the senior manager for strategic marketing at Bosch-Sensortec, the market for industrial sensors and the need for continuing advancement in this area drives his division's mission. Amongst the ongoing design considerations being addressed is the need for constant evolution and device downsizing. Even though industrial plants typically have grid-based electricity supplies, the sensors being added to manufacturing equipment cannot present special power requirements insomuch as a manufacturing plant cannot afford to undergo redesign just to accommodate new information gathering devices.

Also focusing on IIoT sensing requirements was Barbara Panella, group research area manager and sensors strategy leader for ABB Corporate Research. Panella said that ABB sees industrial sensor applications as a growing market that should reach (USD) $35 billion by 2022.

"We see the biggest opportunity for plug-and-play sensors that can service across varied industries," she remarked, reminding attendees that digitization is 'just beginning' in many industries that were previously served by analogue or mechanical sensors. "Consider oil and gas—sensor technology was not previously available to them for monitoring some functions, it was inaccurate, or it was too expensive."

Rainer Minixhofer, senior technology director of AMS AG, told the audience that AI is not only an enhancement for advanced sensors, but a key enabling technology that will allow the sensors market to grow at a faster rate than it might otherwise experience.

Network operators would love to see cloud computing be the enabling technology for sensors and sensor fusion, but as we know, this would not only be expensive but impractical for many applications," he stated. "So how (might) we conduct data analysis within the device itself? We see AI emerging as a solution and we will see it happen more quickly, especially in applications like the smart home. Think of a MEMS microphone; how do we characterize data within the device so that the sensor isn't just a sensor anymore. We used the approach of how to develop AI around the human model; we have a way to go but progress is happening and we believe it is achievable."

The afternoon of Day Two of Sensor Solutions International saw avid debate in panel sessions addressing emerging technologies as well as market opportunities for near-term and mid-range timelines. The final afternoon sessions considered energy harvesting and novel strategies for powering sensors without batteries or hard wiring sensors into legacy infrastructure.

Matthias Kassner, VP of product marketing for the EnOcean Alliance, said that his group approaches the need for sensor energy by considering the problem or requirement for which the customer needs a solution. "How do you in a building address the needs of the people who will use it while also considering the value of the physical structure, the land, its role in the community? If data is the bottom line how does that balance against ease of installation and cost of operation?"

From EnOcean's perspective, the use of self-powered wireless sensors that typically utilize piezoelectric components to derive energy from the movement of switches or other mechanisms is a ready solution. "If you compare what it means to change all light switches from wired connections to wireless, a home can be fitted with wireless switches and the consumer can install them with minimal expertise, frequently without an electrician …This is one way that home automation makes sense and can be demonstrated easily to the consumer or the building manager in larger structures."

Edsger Smits, an imec senior researcher at the Holst Centre, sees a future of sensors that are as large as the area that one wishes to measure.

"Imagine sensors as large as a building floor. We can learn a lot when a person steps onto that floor, such as their weight, direction of movement, the gait of a person's walk—all this can tell us a lot about their health, how often they move about the building—all without interfering with their lives. The sensors can be powered by the person's movements and other energy collectors throughout the building."

Viktor Borjesson, CEO and founder of Rebive Energy AB, has built his company on devices that harvest energy largely based upon vibration for sensing applications, such as in door locks where energy comes from the movement of locking mechanisms, or in train switching equipment.

In the day's final presentation, Mathieu Bellanger, technical director of Lightricity - a spinoff of Oxford University, explained and explored the possibility of deriving sensor operational energy as well as power for other systems through extreme, high-efficiency photovoltaic (PV) cells. "Think of them as indoor solar cells," he explained. "The idea is to avoid battery servicing maintenance by replacing power cells with our harvesters and RF connections instead of wires, and so forth."

Sensor Solutions International presenters offered deep insights and perspectives into the rapidly changing world of advanced sensing devices. Whether addressing needs for the transport sector such as ADAS and vehicle autonomy platforms, biomedical innovations, the IIoT or the means to 'self-power' entire sensory arrays, Sensor Solutions International demonstrated the vital role sensors play within next-generation products for industry and consumers. Sensor design and development presents expanding opportunities to drive wide swaths of commercial and consumer products. Look for future articles that delve deeper into 2019 presentations as work towards an even larger 2021 Sensor Solutions International gets underway.